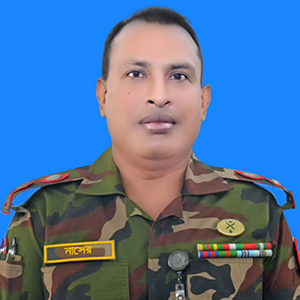 (Principal & Member Secretary)
Bismillahir Rahmanir Rahim
Morning Glory School & College (MGSC) was established on 28 August 1999 after the name of a beautiful flower "Morning Glory" at Savar Cantonment. This is the only English Medium School & College in the entire Savar Area, having the uniqueness of committed academic mentors, caring staff and congenial teaching-learning environment.
Being the Principal of this unique institution, I feel extremely fortunate to lead such a wonderful school and to have the opportunity of ensuring that each child at MGSC receives the best possible education through a wide variety of innovative and collaborative methods and activities. I can assure you that, your child's education is my top priority. As such, I shall look forward to working together with you to make your child's educational experience a positive one.
Our strength is in our high academic standards, our partnership with parents, and our happy children. Our staffs are also dedicated, hardworking and highly experienced. They always try to provide a safe, calm and caring atmosphere in the school and foster a hardworking ethos based on an enjoyment of learning within a stable environment. We also continually seek the views of parents and visitors for our school. We highly recognize that parents play an important role in the education of their children and as such, we welcome their support and cooperation in making their child's time at MGSC enjoyable.
We give adequate emphasis on both personal and social development of a student which is as important to us as academic achievement. We also provide the best opportunities to our students, encouraging them to participate in various activities and competitions beyond the classroom curriculum.
I believe in a single family identify and as such we all are part of MGSC family. I am highly proud of my lovely family and I am oath bound for ensuring its protection, safety, security, development and progression.